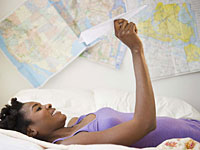 Getty Images
When it comes to moments for myself, I'm not asking for much. I'd like to get a haircut, lounge in the backyard with a book, maybe have dinner out with my husband. Luxuries? Hardly. And yet, with my mile-long to-do list, I can't get to them.
I'm not alone in feeling overscheduled and overstressed. In a new survey, 72 percent of women said they take on more than they can handle. And that doesn't just make us feel bad. "When we feel crushed by the weight of our obligations, we get sick," says Alice Domar, PhD, executive director of the Domar Center for Mind/Body Health.
Many studies show that stress dampens the immune system; a recent one found that it not only puts us at greater risk of a cold, but possibly even asthma or heart disease.
The solution—lightening your proverbial load—probably seems impossible. But not only will it buoy your immune system, it also can help you craft a life that's more fulfilling, with more time for activities you love—or even just time to do nothing. Follow these steps to learn how to shake off the dead weight—and feel infinitely more alive.
Step 1: Ask yourself: what's weighing you down?
Before you begin lightening up, you have to determine which of your to-do's are drags and which are actually want-to-do's. "What are the juicy pieces that might make your calendar look lighter if you said no to them, but wouldn't actually make you feel lighter?" asks Brene Brown, PhD, a research professor at the University of Houston Graduate College of Social Work and author of
The Gifts of Imperfection
. Here's how:
1. Take a frank look at everything on your schedule for the next week. Don't count nonnegotiable obligations like paying bills, doing laundry, or going to the dentist. For each activity, ask yourself: "When it's over, do I feel energized or depleted? How will I feel if I don't do it?"
2. Rate each activity that's within your control—from spin class to that money-management workshop, lunch with your old boss to baking for the neighborhood block party—on a scale of 1 to 10, with 10 being the most enjoyable, meaningful, or rewarding, and 1 being the least.
The more benefit you gain from an activity, the higher its rating. For example, you could stop planting pansies in your yard, but you'd miss smiling at those rich purple blooms in summer. You could stop leading your local Girl Scout troop, but you'd miss feeling like you're connecting with your daughter and making a difference in the world. Here's a sample list:
Spin class = 8
Baking cupcakes for the block party = 2
Lunch with your old boss = 6
Money-management class = 3
Taking your mother-in-law shopping = 4
At first glance, spin class may seem like the most disposable item on the list, but you know if you don't go, you'll feel crabby and sluggish the rest of the week. On the other hand, if you bag making cupcakes for the block party (you could always pick up some store-bought ones, right?), you'll feel relieved to have your Sunday back. So spin class outranks baking cupcakes. "The load we need to lighten is those things that are serving other people at the expense of our own well-being," Brown says.