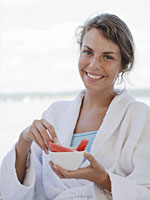 Plattform/Getty
You'd like to do something—
anything
—to speed up your metabolism, but it's out of your control. Right? Not quite. Although genetics and your age both play a role, recent studies suggest you have plenty of say over how well your metabolism—which involves your body's ability to break down food into usable energy—functions.
In fact, you can all but negate the metabolic slowdown that happens after 40 by tweaking your diet, exercise, and sleep habits. "Think of your body as an engine—your metabolism is the rate at which your engine runs," explains Scott Isaacs, MD, an endocrinologist in Atlanta and author of
Hormonal Balance: How to Lose Weight By Understanding Your Hormones and Metabolism
. "By making adjustments to these three elements, you can actually make your engine rev higher."
The eating and exercise plans on these pages were designed to keep your metabolism humming to the tune of up to 10 pounds off in 21 days. Read on for the keys to not only losing, but losing for good.
Key 1: Eat early
Your basal metabolic rate—the number of calories your body burns at rest—is based on things like age, height, and body type, so there isn't much you can do to alter it. But there is a lot you can do to change the number of calories you burn above that, beginning with your diet. Specifically: Eat breakfast.
We already know the reasons you may not want to (you don't have the time/energy/stomach for it), but leaving for work on an empty stomach is like hitting the pause button on your metabolism. Here's why: When your brain senses your stomach is empty, it sends a message to your cells to conserve energy in case another meal doesn't arrive. In other words, your body holds onto the fat stored in your cells instead of helping you burn it off.
"Breakfast triggers a process called thermogenesis, where the body signals the brain to activate the metabolic process of turning food into energy," says Mark Hyman, MD, author of
The Blood Sugar Solution
.
Key 2: Eat often
To keep your metabolism humming, Dr. Hyman suggests eating small meals every three or four hours. Aim to make each of those meals at least one-quarter protein—whether it's animal protein, beans, or dairy, says Marissa Lippert, RD, who designed the eating plan on page 39. A recent study in the journal Neuron suggests that consuming protein stimulates the cells responsible for switching on the body's calorie-burning mechanism.
Foods high in sugar and processed carbs, on the other hand, can lead to another problem: insulin resistance. "As we get older, it's crucial to pay attention to how much sugar we're consuming," says Diane Kress, RD, author of
The Metabolism Miracle
. "Too much messes with your metabolism by causing your body to store extra calories as fat."