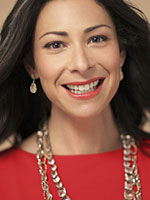 Alex Beauchesne
Health
's own what-
to
-wear expert Stacy London, and two personal stylists from her
Style for Hire
team share advice on dressing slimmer, organizing your closet, and much more.
Stacy London, Co-Founder and Stylist-in-Chief, Style for HireJessica Shea, Stylist, Style for Hire, Alexandria, VA Lauren Messiah, Stylist, Style for Hire, Los Angeles
What's the fashion faux pas you see most often?SL:
"The biggest issue I see with women is not having their own sense of style. They are so overwhelmed with choices in the marketplace, from magazines to TV ads, that they dont know how, or dont have the time to make educated choices."
"Women do not have the right bra! I cannot say this enough: it is
essential
to wear a good bra, and if you dont have one, go get yourself fitted! You cannot see the proper fit of any item of clothing without the proper undergarments."
What's one way to look a dress size thinner?JS:
"Structured fabrics are key—they help suck you in and hide bulges. Heels always help too."
LM:
"Wearing a dress with a defined waist is the best way to dress thinner. It highlights the smallest part of a womans body, which makes 10 pounds disappear like magic."
What's one thing that every woman should have in her wardrobe?JS:
"A tailored black blazer. It can be worn over a dress, paired with a basic t-shirt and jeans, or to work with a colored slack."
LM:
"A classic leather jacket should be in every womans closet. It can toughen up a look or make it more casual."
What's in your bag; gym bag; makeup bag?SL:
"I dont own a gym bag! But in my makeup bag you'll find NARS Orgasm liquid blush, Smashbox O gloss, and Laura Mercier concealer number 3."
How often should you purge your closet?JS:
"Before both the spring and fall seasons."
LM:
"Your closet should be purged at least twice a year or when the contents of your closet start pushing the closet doors open!"
What are five season-less items everyone should own?JS:
"Only 5?! OK...Nude heels, black blazer, metallic pointy flats, colorful scarf, and a comfortable pair of ankle length dark denim jeans. A little black dress is pretty important too."
LM:
"Every woman should own a quality 'non-it bag,' a pair of statement shoes that make you feel like a million bucks, a great fitting pair of jeans, a stylish pair of sunglasses, and a denim jacket."
Should I organize my clothing by color? Style?
JS:
"Both, but this depends on the space available. Color first—if theres room, separate your professional from your casual wardrobe."
LM:
"The more organized, the better! Start organizing by type and then by color. An organized closet makes it that much easier to get dressed in the morning."
Is there a trend you were glad to see go?SL:
"If I never see another 80s primary colored 'power suit' with enormous shoulder pads, and dowdy shapes, I'd be a happy woman. If you dont have the right fit, you can never have the right style."