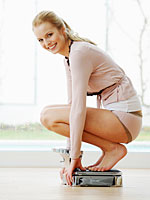 Getty Images
Eat less, exercise more. That's the recipe for losing weight, and we all know it by heart. So if we want to get slimmer, and we know the formula, then why can't we do it?
Commitment is important—in fact, it's essential—but it's only the beginning. The key to successful dieting is bridging the gap between what you want to do and actually doing it. The desire is there; you just need a plan.
The scientifically proven tactics on these two pages will help you do just that. I say that with confidence—not only as a social psychologist who studies motivation, but also as someone who has benefited from these tricks firsthand. Each one—especially #2—helped me lose almost 50 pounds after my son was born three years ago.
Strategy #1: Be very specific
When we make goals that are vague, like "I want to lose weight," we set ourselves up to fail.
Motivation happens when your brain detects a difference between where you are and where you want to be. When you are specific about your goal (I want to lose 10 pounds), that difference is clear, and your brain starts throwing resources (attention, memory, effort, willpower) at the problem. A clear target looks something like this: "I want to weigh 135 pounds. I weigh 155 now, so that's a difference of 20 pounds."
Being specific gives you clarity because you've spelled out exactly what success looks like. That means more motivation—and better odds of success.
Strategy #2: Create an OK-to-eat plan
Faced with unexpected temptations—the dessert menu, the catered work lunch—we end up eating things that sabotage our weight-loss goals. The best way to guarantee you make the right choices is to create an "if-then" plan:
"If the dessert menu arrives, I'll order coffee."
"If I am at a business lunch, I'll have a salad."
Studies suggest that coming up with safe-to-eat plans makes you two to three times more likely to reach your diet goals.