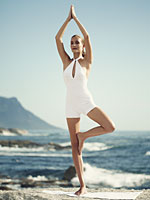 Bettina Lewin/Folio-ID
Finding a yoga class used to be simple. Youd walk into your local gym and there would be The Class. Your choices were few because, well, there werent that many people looking to get their om on: In 2001, 4.3 million Americans were hitting the yoga mat; just over a decade later, that number has almost quadrupled to about 16.5 million. Studios, gyms, and rec centers now offer an estimated 800-plus styles to choose from, says Leigh Crews, a spokesperson with the American Council on Exercise. Some of it has to do with yogas (well-deserved) reputation for being an excellent stress reliever. But a big part of yogas popularity surge is its just plain good exercise. Virtually any type of yoga improves strength, flexibility, and balance, explains John P. Porcari, PhD, director of the clinical exercise physiology program at the University of Wisconsin–LaCrosse. "The more intense styles can also help you shape up and trim down."
Want to take full advantage of that powerful collection of benefits? Read on for everything you need to know, whether you are a first timer or a regular looking to take your poses to a whole new level.
If you are just beginning or want the best mind/body combo, try Hatha
Poses are straightforward, and the pace unhurried. "You do a pose, come out of it, then do another," explains Mark Stephens, author of
Teaching Yoga: Essential Foundations and Techniques.
"Its an excellent style for beginners." Props like blocks and bolsters are often used to help you get the right alignment. But its not just about the body, as your teacher will also encourage you to focus on breathing, relaxation, and meditation (which may involve chanting). And all of this mindfulness has a real-world benefit: A study in the journal
Psychosomatic Medicine
found that women who practice Hatha yoga once or twice a week recover from stress faster than those who dont.
If you want to get slim, try Ashtanga Power Yoga
These two provide all the regular benefits of yoga with the fat-blasting bonus of a killer cardio session. Both styles focus on flowing from one pose to the next without rest—making for a terrific calorie burn (about 500 per hour). "The practice is meant to generate heat in your body," says Mandy Ingber, the yoga instructor behind Jennifer Anistons ageless body. So, yes, you will sweat. A lot.
In Ashtanga, the more traditional of the two, youll begin with chanting, then follow a sequence of poses ("asanas") that never changes. In a Power yoga class, the poses vary each time and theres usually none of the spiritual aspect.
A large study in the journal
Alternative Therapies in Health and Medicine
confirmsthat women get lean in these classes: Practicing yoga of any kind at least once a week for four years or more stavesoff middle-age spread.