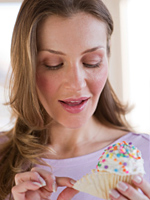 Getty Images
Wendy Foulds Mathes, PhD, is trying to teach rats to binge on Double Stuf Oreo cookies. You might think overstuffing yourself with yummy cookies would come naturally to a rodent, but it doesn't.
In fact, Foulds Mathes, a research assistant professor of psychiatry at the University of North Carolina School of Medicine, in Chapel Hill, and her colleagues are working hard to create behavior in rats that comes all too easily to some humans: binge eating. They control when the rats are given cookies, and then look for changes in the brain that might indicate that foods high in fat and sugar affect the brains' reward systems in a similar way to drugs or alcohol.
It's a serious question. People with
bulimia
or the condition known as
binge eating disorder
have an overwhelming, uncontrollable urge to binge on food in a way that seems similar to people with an addiction, experts say. In addition, they often struggle to change their behavior—which can cause potentially life-threatening health problems such as diabetes, hypertension, and heart arrhythmias.
"Many people have noticed that when people with eating disorders—bulimia in general—talk about the foods they binge on, it can sound a lot like how people with substance abuse problems talk about abusing drugs," says B. Timothy Walsh, MD, an eating-disorder researcher and professor of psychiatry at Columbia University Medical Center, in New York City.
The behaviors often go hand in hand, in fact. The American Psychological Association estimates that about 5 million Americans suffer from a diagnosable eating disorder. And according to a 2007 analysis of government data, roughly one-third and one-quarter of people with bulimia and binge-eating disorder, respectively, will also have an alcohol or drug problem at some point in their lives.
"It's not uncommon to have both problems," says Richard J. Frances, MD, a clinical professor of psychiatry at the New York University Langone Medical Center, in New York City, who works with people with both types of disorders. "The way people have trouble stopping, and the addictive aspect of both kinds of disorders—and the compulsivity—are similarities."