Q: What body part are you proudest of?
A:
I have nice muscle tone in my arms. I can't really take credit for it, though—all the members of my family do. A lot of arm wrestling happened in our family growing up!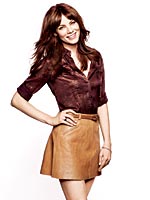 Art Streiber
Q: Do you have any body challenges?
A:
The old bum and thigh area. I hope most women agree with me! Keeping it toned, dealing with cellulite. I hate when I feel it move after me.
Q: Any health regrets?
A:
I smoked for almost 10 years. I really regret that. Thankfully, I came out on the other side. I hope my lungs are repairing themselves now.
Q: You've known your husband—Australian graphic designer Peter White—for nearly 11 years. Do you find he "gets" you?
A:
He gets me on every level. During "that time of the month," he knows to bring me a Snickers bar. He's good like that! And a few years ago I had a mole on the back of my calf, and he was adamant that I get it checked. In Australia, they're very aware of skin cancer. I finally went and it was skin cancer. I had quite the chunk taken out of my leg. I'm so grateful he noticed it. I clearly now realize he has a keen eye and wonder what other imperfections he's noticing!
Q: So, cosmetic surgery—for or against?
A:
I don't think it's for me. The acting that I respect is about conveying emotion without really speaking. I'm not saying I jump for joy when I see new laugh lines, but I would try every possible recourse before going under the knife.
Q: With all you juggle, how do you stay in touch with your sensual side?
A:
A new bra goes a long way—and when I say a new bra, I mean a real treat, like one from La Perla. Not the matching sets; I like to mix and match. And if I can finagle a foot massage, I will give you the moon.