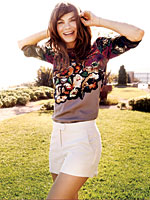 Art Streiber
Sitting in an L.A. cafe, I see no sign of Michelle Monaghan, 35, whose career has soared since playing Tom Cruise's love interest in
Mission: Impossible III
. Could it be that the famously down-to-earth star—who grew up in Winthrop, Iowa, Population: 850—has turned diva? Just then, a redhead in the back waves (she has dyed her hair for a role). Soon, all worries about her having gone Hollywood vanish. Sipping mint tea, she talks workouts, health scares, and her secret weapon for PMS.
Q: In your new film, Machine Gun Preacher, you play the wife of an ex-drug-addict-turned-evangelist who crusades to protect Sudanese children from the horrors of war. What drew you to it?
A:
When I was growing up, my parents took in foster children. From a young age, I learned that there are a lot of children in need. I am a firm believer that you can make a difference in someone's life—whether they're thousands of miles away, or on your own block.
Q: How has your childhood put your Hollywood life into perspective?
A:
I come from a very working class background. My dad worked in a factory for 40 years. We all put ourselves through school. So I?ve never felt entitled to anything.
Q: Your daughter, Willow, is 3. What did you do to get your body back in shape after having her?
A:
I started with ab work, since after pregnancy the abs are shot. For the first time, I enjoyed working out: It was having that reprieve for an hour of alone time. It gave me more energy.
Q: How do you stay in shape these days?
A:
I do squats, lunges, strength training. I ran a half-marathon in April with my cousins, mom, and aunts. It was amazing. After that, we had big plans to do the Chicago Marathon, but two weeks later, we were asking, "Are we really going to do it, or were we just on a runner's high?" I haven't run since!
Q: What is the toughest part of working out for you?
A:
Just getting there! I've gotten down the stairs and thought: workout or post office? It's either physical torture or mental torture. So sometimes I go with the mental torture and stand in line at the post office in my workout gear.