Take Our Poll: Do You Use These Beauty Products?
Primers, highlighters, brow powders... They may not seem as crucial to your makeup routine as, say, foundation, blush, and mascara, but makeup artists say they can make all the difference. How often do you use them?
---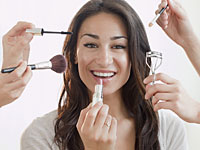 Getty Images
Last Updated: September 01, 2011
Get the latest health, fitness, anti-aging, and nutrition news, plus special offers, insights and updates from Health.com!