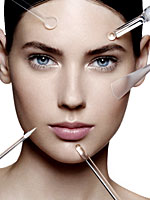 Florian Sommet
Handheld light beams. Micro-pulse vibrations. The latest skin-transforming gadgets and treatments may sound like something out of a sci-fi movie, but don't let the high-tech flourishes intimidate you: These "skinovations" are actually making it easier to get younger, flawless-looking skin, without having to deal with prescriptions or invasive procedures. And that's no science fiction.
Breakthroughs that…
Save you from RX hassle!
New over-the-counter lotions deliver (almost) the same benefit as their prescription cousins—without the wait time at the pharmacy counter.
Gentle Spot-Lighteners
Derm-prescribed skin-bleaching creams often contain a skin-irritating ingredient called hydroquinone. Now there are new, non-hydroquinone-based OTC lighteners that are less likely to produce a reaction, says Tina Alster, MD, clinical professor of dermatology at Georgetown University Medical Center in Washington, DC. Both
La Roche-Posay Mela-D Pigment Control Correcting Serum
($59; laroche-posay.us) and
SkinCeuticals Pigment Regulator
($85; skinceuticals.com) contain 2% kojic acid to break down melanin in your skin and prevent new spots from forming.
Non-Irritating Anti-Agers
Prescription retinoids, which are vitamin A derivatives that boost collagen and speed up cell turnover, give you smoother skin, but they also may cause redness and flaking.
Good news: New OTC products with retinol have time-release formulas or added moisturizers, to lessen irritation, says Heidi Waldorf, MD, a dermatologist in New York City.
Neutrogena Rapid Wrinkle Repair Night
($21; neutrogena.com) mixes retinol with hyaluronic acid, while
SkinMedica Tri-Retinol Complex
($55; skinmedica.com) contains time-released microparticles that slowly pump out vitamin A. You could also go the more natural route:
Origins Plantscription Anti-Aging Serum
($55; origins.com) swaps traditional retinol for African Anogeissus, made from the bark of a West African tree.