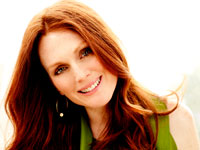 Brian Bowen Smith
At a photo studio in downtown New York City, Julianne Moore is heard before she is seen—her ringing laugh fills the room. Then the four-time Oscar-nominated star strides over with her hand out as the crew convulses with laughter at a joke she just cracked. It's no surprise that Julianne is known as one of the most well-liked actors on any set. Brainy, forthright, warm, she's part glam actress, part empathetic girlfriend, and part hip Seven Sisters professor. After changing into a striped T-shirt and slim cargo pants, she sits on the couch, kicks off her clogs and gathers her famously lush red hair into a topknot. All the while, she's peppering me with questions (not normally the habit of someone famous—trust me). At 50, she has the lustrous skin and lithe body of someone decades younger—thanks not to the surgeon's knife, but to a lifetime of healthy habits.
Julianne stars in this month's smart comedy
Crazy, Stupid, Love
. She plays Steve Carell's wife, who sends him into a tailspin after she has an affair and wants out of the marriage. (Her own home life is much more content: She lives in the West Village with her husband, director Bart Freundlich, their son, Caleb, 13, and 9-year-old daughter, Liv.)
She has been a New Yorker for decades after a peripatetic childhood in a military family (father Peter was an Army judge; her late mother Anne, a psychiatric social worker). A mid-'80s stint on
As The World Turns
led, famously, to film superstardom.
Over a leisurely afternoon, she divulges her thoughts on cosmetic surgery, which workout is "agony," and how she really feels walking the red carpet.
Q: It's nice to see you in a comedy! Why did you sign on to do Crazy, Stupid, Love?
A:
Well, first and foremost, Steve Carell. I love him, and he's so gifted: His sense of timing and the quality of his humor and the depth of it. He grounds everything emotionally. And the script is delightful, and super, super funny. It's about people who have been married for 25 years, and it's all kind of falling apart, and what happens in a relationship with its ups and downs.
Q: Are you more drawn to comedies these days?
A:
Oh my God. [Puts head in hands.] The older you get, I think, the less appealing tragedy becomes.
Q: How come?
A:
Life is hard, and life is sad, and it's challenging, and I think that all the burnish that tragedy has when you're 22—it really is different when you're 50. You're really kind of like, "You know, I think I'd rather laugh."
Q: You have a great track record with films. Do you have a good gut feeling, or are you psychic?
A:
I think if I have any strength, it's the ability to read scripts well. There have been scripts that I've read—like
Boogie Nights
—and said, "This is brilliant."
Far From Heaven
was that way,
The End of the Affair
,
The Kids Are All Right
. I'm just a really good script-reader.
Q: What do you do to feel confident on the red carpet?
A:
I never feel confident! I don't know that there's anybody who does. I mean, you don't look around the red carpet thinking,
There's a lot of confident people out here
.
Q: Still, you look amazing—your hair is shiny, your skin glows.
A:
Let me tell you something: The big thing about being 50 is the bar is much lower. People are like, "Oh my God, you look great!" So that's sort of good. [Laughs.] I have very strong hair, that's just genetics. And I credit my mother for keeping us out of the sun.