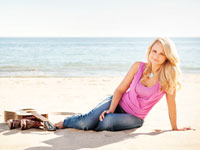 Brian Bowen Smith
Miranda Lambert may have forgotten to thank her fiancé, fellow country music star Blake Shelton, when she won her first Grammy this February. But when we caught up with the 27-year-old star on her tour, Blake was top of mind. In fact, the Texas native was thrilled to chat about everything, from her energy secrets to how she's getting into peak shape to swap "I do's" with Blake this month.
Q: You're in Evansville, Indiana, now. Do you ever get confused about which city you're in?
A:
Yes! They usually write where we are on the set list, because I've made the mistake of saying the wrong state before. I was like, "Hello, Ohio!" And they just kind of looked at me like my head was on fire. [Laughs.]
Q: And how do you keep your energy up on stage?
A:
I eat a lot of protein and eat pretty clean. Junk food drags you down. I try not to have anything less than two hours before I go on stage, because I don't want to be up there all bloated. I basically have a grilled-chicken salad after the show, and that fills me up.
Q: You have a trainer with you on the road, right?
A:
Yeah, I wanted to get in better shape and wanted to keep it going for the wedding. We do a lot of circuit training, lunges, and crunches. And every morning we walk for 30 minutes.
Q: Your parents were private eyes who ran an agency from home. It sounds like a TV show!
A:
It does. But to us [back then], it was just my parents' job. I did surveillance a lot, which sounds exciting, but it never was. If there was no babysitter, I'd have to go, and my brother and I would just lie in the backseat and color for 15 hours while my mom watched the house.
Q: Did you know what your parents were doing, exactly?
A:
In a way, I had such a normal life. But in another way, I saw things most kids don't see. Our dinner conversations weren't about school and homework; they were about child custody cases or divorce. When I was a teenager, my parents took in victims of domestic abuse, which was definitely eye-opening. I had to share my room with a woman and her kids who had been abused.