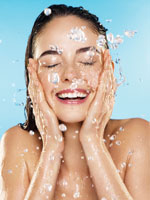 Suza Scalora
"Im having an oil crisis on my face."Cleansing Rx:
When the seasons change, it can seem like your skin has multiple personalities (dry one day, oily the next). Interestingly, your skin doesnt actually pump out more oil this time of year, but the oil on your face becomes more fluid so you see and feel it more, says Leslie Baumann, MD, a dermatologist in Miami Beach, Florida. "If you were using a milky or creamy cleanser all winter, nows the time to switch to a foaming or gel-based wash—something that has a bit of oil control to it," Dr. Baumann says. One to try:
Benefit Foamingly Clean Facial Wash
($21; benefitcosmetics.com).
Overdo the cleansing, though, and you could end up stripping healthy fatty acids that protect the skins surface. A good guideline: If youre very oily, use an oil-controlling wash twice a day. But if youre only somewhat oily, switch to a foaming wash in the morning (to curb daytime shine), and use your creamy cleanser at night (to keep your skin soft).
"My hair looks flat and dull."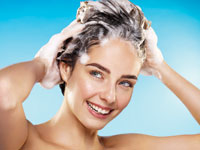 Suza Scalora
Cleansing Rx:
Winter may be history, but its effects can linger. "Dry heat can mess with your scalp, leaving you with buildup and lifeless hair," says Jeannette Graf, MD, assistant clinical professor of dermatology at Mt. Sinai Medical Center in New York City. To find out if residue is wrecking your locks, rub one of your fingernails against your scalp. If you find greasy or waxy residue, your hair may be weighed down by emollients from conditioners and stylers and/or a buildup of dry skin.
Give your strands a boost by switching up your routine. Once a month, lift impurities from roots to tips with
Redken Nature Rescue Refining Sea Polish
($19; redken.com), a pumice-enriched exfoliator that restores shine. Apply it to clean strands so it (gently!) scrubs your hairs surface. Leave it on for a minute, then rinse.
Once a week, wash with a clarifying shampoo (the cleaner your hair, the better your blow-dry will look). We like
John Frieda Luxurious Volume Clarifying Shampoo
($7; drugstores). Finally, consider switching up your go-to shampoo and conditioner. "Over time, hair does become immune to products," says Alan Gold, creative director of The Haig & Co. Salon in Philadelphia. A change can make your strands look shinier and healthier.