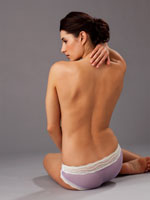 Della Bass
If youve ever had a bout of back pain, youre not alone: According to the National Institutes of Health, 8 out of 10 people will suffer from back pain at some point in their lives. Most of the time, back pain is set off by something totally minor, says Venu Akuthota, MD, director of the Spine Center at the University of Colorado Hospital in Aurora, Colorado.
Besides obvious causes (constantly lugging a too-heavy purse, for instance), experts say that everyday habits like hunching over your smartphone can strain your spine and the surrounding muscles over time, causing pain and making you more vulnerable to serious injury. To stop back pain now—and avoid future agony—try targeting these unexpected culprits.
Culprit No. 1: Your fancy office chair
Even an expensive, ergonomic chair can be bad for your back if you sit in it all day without a break. Sitting not only lessens blood flow to the discs that cushion your spine (wearing them out and stressing your back), but it puts 30% more pressure on the spine than standing or walking, says New York City chiropractor Todd Sinett, author of
The Truth About Back Pain
. Be sure to stretch at your desk and get up every hour to walk around. Dont assume that built-in lumbar support makes your chair back-friendly—in fact, for many people, lumbar supports dont make a bit of difference, especially if they arent positioned properly (at the base of your spine), says Heidi Prather, a physical-medicine and rehabilitation specialist and associate professor of orthopedic surgery and neurology at the Washington University School of Medicine in St. Louis.
No matter what type of chair you sit in, make sure your head is straight (not tilted down) when youre typing or reading. Avoid slouching and adjust your seat so it tilts back slightly to help alleviate some of the load on your back, Sinett says. And keep your feet planted firmly on the floor.
Culprit No. 2: The wrong shoes
When you strut in stilettos, your foot strikes the ground in a toe-forward motion rather than the normal heel-toe gait, stressing your knees, hips, and back, Sinett explains. "Wearing heels also alters the angle of your body so your weight isnt evenly distributed over the spine," he says. This instability can set you up for pain and injury radiating from your knees all the way to your back.
Another shoe no-no: the backless kind (even flats and flip-flops), which allow your heel to slide around. Again, the lack of stability distributes your body weight unevenly, putting more pressure on your spine. Your shoe should firmly hold your foot in place to keep you stable and protect your back, says Sinett, who also advises sticking to heels that are less than three inches high.