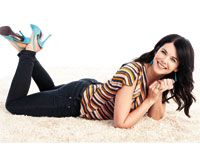 Matt Jones
Sitting in her trailer between filming scenes for
Parenthood
, Lauren Graham is still in hair and makeup, but dressed in what could be considered her casual uniform: a pair of stretchy jeans tucked into boots, a tank top, and a Current/Elliott denim shirt.
She's nearly cornered the market on playing young, cool single moms, and it's no accident: The 43-year-old is warm, naturally pretty, and self-deprecatingly funny. But her devotion to living healthy is no joke. Today, as she eats a lean lunch of brown rice and tuna, Lauren talks to
Health
about staying body-confident in Hollywood, and just how she earned herself the nickname "Bootsy."
Q: What does being healthy mean to you?
A:
Balance, and I think that is something you're always aspiring to have. Sometimes I'll think, "That was a really nice day. I ate well, I exercised, I called some friends, wasn't working too hard," but I rarely have one of those. [Laughs.] They're more often, "I'm too tired, I didn't run as far as I wanted." And so that's something I've gained peace with. I
expect
now for the day to be imperfect in some way.
Q: What's your go-to power meal?
A:
I guess it's protein and vegetables. I've pretty much always been on a diet since I was born. And the women in my family struggle, so I find the less I think about food, in a way, the happier I am. In general, I think I eat less the less I think about it.
Q: In what areas of your life are you most and least healthy?
A:
I'm probably most healthy in exercise. I've always really liked being active. I do Spinning classes, I run, I have a trainer, I do Pilates with my sister Shade. And I think work has been an area, historically, where I've way overworked myself. Not on this job. But [in the past] I've definitely spent a lot of time worrying about work, taking jobs when I maybe could have taken some time off—really pushing myself. Although I've gotten way way way better.