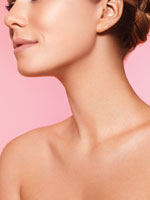 Suza Scalora
Here's something you never thought you'd hear us say: Sometimes faking it can be a good thing. There are times when we all need a little extra beauty camouflage. And covering up those fine lines, dark circles, and thinning lashes has never been easier—thanks to the latest products and insider moves. Consider this your personal cheat sheet for going undercover.
Cover up:
Under-eye bags and dark circles
Things have (thankfully) come a long way since Grandma's days of tea bags and thick "pancake" foundations for dealing with under-eye issues. The first step: Treat the underlying problem before you reach for concealer. "The skin under your eye is the thinnest on your body," explains dermatologist Joshua Zeichner, MD, director of cosmetic and clinical research at Mt. Sinai Medical Center in New York City. "And most dark circles and bags are caused by inflammation and leakage from blood vessels in the area." Go with an eye cream containing caffeine, which will help nix both dark circles and under-eye puffiness by constricting blood vessels in the area. Darphin Anti-Fatigue Smoothing Eye Gel ($38;
neimanmarcus.com
).
Next up, reach for your concealer. Look for a creamy formula—such as Bobbi Brown Creamy Concealer ($24;
macys.com
)—that's one shade lighter than your own skin tone, notes celebrity makeup artist Eric Sakas, who has prettied up the eyes of Janet Jackson and Kyra Sedgwick. "Match the concealer to the lightest skin on your body, such as the inside of your arm," Sakas suggests. Then, dab it on from the inside corner of your eye working out, using your ring finger to gently blend. The final secret? Keep the focus away from your problem area, meaning steer clear of eyeliner and mascara on lower lids and lashes. Also, stick to neutral eye shadows on top, as colors with blue and purple tones tend to highlight bags and dark circles.
Cover up:
Wrinkles and fine lines
For years, women had to layer on foundation to try to disguise fine lines, but now high-tech primers and wrinkle fillers can help. "These silicone-based gels temporarily fill in pores and lines, making your face look smoother," notes New York City and Los Angeles–based makeup artist Napoleon Perdis. "They help your makeup go on more evenly and last longer by giving it something to bind to." We love Kiehl's Double Strength Deep Wrinkle Filler ($39;
nordstrom.com
). Spread a tiny amount of primer over moisturized skin, making sure to get it on the tiny lines and creases around your eyes and mouth. If you prefer to turn your age-erasing over to a dermatologist, treatments like Botox (made with botulinum toxin) remain the gold standard for fine lines—and it's wiping out more wrinkles than ever. "Before, it was only for around the eyes and on the forehead," Dr. Zeichner says. "Now doctors are using botulinum toxin to improve the appearance of fine lines around the mouth."