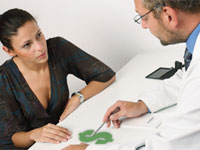 (ISTOCKPHOTO/HEALTH)
Emergency rooms are not always the fastest choice for your medical care needs—and certainly not the most cost-effective. For conditions that aren't life-threatening, you may be able to save time—and money—by going to your local
urgent care facility
. Sometimes called a "doc in a box," these freestanding walk-in centers usually offer extended hours, and their doctors can treat non-life-threatening medical situations, perform basic X-rays and lab work, and dispense prescriptions.
Emergency room vs. urgent care facility
Franz Ritucci, MD, president of the American Academy of Urgent Care Medicine, recalls a Florida woman in her 40s who came to him with chest pain and heart palpitations. He took her medical history and did a physical exam, including a 3-D electrocardiogram and a check of her blood-oxygen levels. In less than an hour, she was diagnosed with a panic attack, given a prescription for anxiety medication, and discharged. Her cost: less than $400.
Had she gone to the emergency room with the same symptoms, the routine treatment would be far more intensive. "She would get a full panel blood work, probably cardiac enzymes, serial EKGs," says Dr. Ritucci. "She would be on a heart monitor, probably have a cardiology consult, and maybe an admission to the hospital of less than 24 hours. The standard of care might be excellent, but the costs can quickly get out of hand." Estimated bill: $2,000 or more.