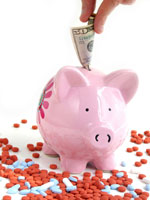 (ISTOCKPHOTO)
Chances are, youve heard of flexible spending arrangements (FSAs) and health savings accounts (HSAs). But what are they exactly? Whats the
difference
between them? And most important, can they save you money? The answer to the last question is: absolutely. Heres what you need to know about health savings accounts and flexible spending arrangements to help pay your health-care bills.
Flexible spending arrangementWhat it is:
A flexible spending arrangement (FSA), often called a flexible spending account, is a benefit that may be offered by large employers. It allows you to put aside money from your paycheck before it is taxed to pay health-related expenses that aren't covered by your insurance. By using pretax dollars, "you're effectively buying health-care services at a significant discount," explains Wayne Farlow, a certified financial planner, whose firm Financial Abundance LLC, is based in Westminster, Colo. How big a discount, of course, depends on your tax bracket. The higher that is, the more your savings. For the average wage earner, it translates into at least a 30% savings on your health-care expenses.
The money taken out of your paycheck is put aside in an account that your employer (or a subcontractor hired by your employer) oversees. You might be issued a debit card to pay for expenses directly, or your company might require you to submit receipts for each reimbursement. The legal limit of the account is $5,000, though some companies may have lower maximums.