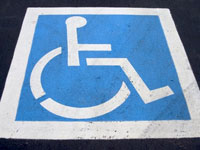 (FOTOLIA)
Chronic pain, cancer treatment, severe depression—these are just a few of the virtually countless reasons you may not be able to show up to work for a significant period of time. Consider this statistic: A 20-year-old has a 30% chance of becoming disabled by the time he or she reaches retirement age. Needless to say, the financial consequences of a disability can be devastating. In 2001, more than one-fifth of bankruptcies in the United States occurred because the debtors (or their spouses) lost at least two weeks of income due to injury or illness.
While government programs such as Social Security provide disability benefits, the eligibility requirements are strict: Your disability must be expected to last for at least a year and the government must conclude that you are incapable of any gainful employment. Also, the benefits may fall well short of your lost income. A 40-year-old making $60,000 a year, for instance, can only expect about $1,700 a month from Social Security in the event of disability.
There is another way to guard against the worst-case scenario. Disability insurance can provide some financial security—and peace of mind—if youre unable to provide it yourself.
What is disability insurance?
Disability insurance, also known as disability income insurance, replaces a portion of your income—typically between 50% and 70%—if you are no longer able to work due to sickness or injury. (No insurer will agree to replace all of your predisability income, the rationale being that you would have little incentive to return to work.)"Your ability to earn an income is likely to be your largest financial asset," says Marvin Feldman, president and CEO of the Life and Health Insurance Foundation for Education in Arlington, Va. "It's worth protecting."
When do you need disability insurance?
The short answer: right now. "You want to buy it when you don't need it at all," says Larry Saffer, a registered financial planner and insurance agent in Plantation, Fla. If you wait until you are actually ill, you may be uninsurable. And policies are most affordable when you are young and healthy. Saffer recalls the case of a 34-year-old teacher who, at his recommendation, purchased a disability policy through the school where she worked. She nearly forgot that she had the coverage, since it cost just a few dollars out of each paycheck. But then a medical mistake during a routine outpatient procedure led to emergency colostomy surgery, eight days in the hospital, and several more operations to correct the error. She had to use a colostomy bag for more than a year and was unable to return to the classroom for close to two. Her disability insurance kept part of her salary coming in through it all. "She thought it was a waste of money initially," Saffer says. "But when she needed it, it was there."