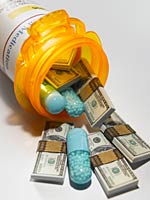 Getty Images
You know the visit is almost over when your doctor picks up her pen and prescription pad. But before you leave the office, dont forget to bring up this important medical issue: the cost of drugs. If you can't afford to take a medication, it can't benefit your health. And there are many ways to save money on medicine even if you have good insurance. Here are five questions to ask your doctor—and yourself—to save money on prescriptions.
1. Are there any lifestyle changes I can try before starting a drug regimen?
"For many chronic medical problems, treatment should start with lifestyle changes," says Edward Jardini, MD, the author of
How to Save on Prescription Drugs: 20 Cost-Saving Methods
and a family physician at a private practice in Templeton, Calif., where he was formerly the chair of the Pharmacy and Therapeutics Committee and chief of family practice. One of Dr. Jardini's patients, Ernesto (not his real name) was 49 when he developed
diabetes
in 1999. Instead of
going on drugs
, Ernesto decided to try
losing weight
first. He dropped 10 pounds in three months, and was down to 232 pounds. Even that small weight loss stabilized his blood-sugar levels, and his diabetes has been undetectable—and he has been drug-free—ever since.
Buy Drugs on the Internet Safely

Shopping online could help you save
Read more
More about saving on medication
"If the patient asks [about
diet and exercise
], the doctor knows, 'Here's someone who's willing to do something besides swallow a pill,'" says Dr. Jardini.
Of course, though healthy eating and exercise can help many conditions, they cant always cure every medical problem or replace a drug regimen. Plus, they can be tough to stick to or integrate with your job or other responsibilities. If you decide you want to start with lifestyle changes, set a time frame (say, three months) with your doctor to see if its working; if its not, then you may want to reconsider medication. Some conditions may require medication from the outset, which can then be reduced if lifestyle changes have enough of an effect.