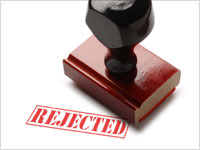 (ISTOCKPHOTO)
Denied insurance claims—even for care that seems obviously necessary—are, unfortunately, all too common occurrences. If your claim is denied, the first step is to contact your insurance company. While there is always the chance that the denial was an unfortunate and harmless misunderstanding, dont get your hopes up for an easy resolution. People who manage health-insurance claims professionally have a term for the frustration of trying to get help from customer-service lines: 1-800-HELL.
If you cant get your claim covered by talking with your insurance company over the phone, dont assume that the first "no" you receive is final. You have a legal right to appeal the companys decision, and there are resources available to help you. You need to help yourself too, however. "With many major health plans, it is routine to deny coverage on the first submission, so if patients are not willing to move through an appeals process, they will end up paying," says Nancy Davenport-Ennis, the cofounder and CEO of the
Patient Advocate Foundation
, a nonprofit organization that advocates on behalf of patients whose health-insurance claims have been denied.