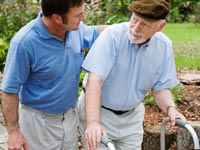 (ISTOCKPHOTO)
Without planning, taking care of a loved one can easily become a major drain on financial resources. And the more demanding it becomes, the more your own financial health is endangered. America's caregivers provide an average of 21 hours a week of volunteer care over an average of 4.3 years; in a 2004
survey
, 38% of those caregivers reported some financial hardship as a result. Whether you are still eyeing the corner office or youre thinking about reducing your hours to spend more time helping a family member, here are some of the issues youll want to consider.
What to watch out for:
Stalled career development.
Your ability to nurture your own career can be imperiled by your caregiving duties. Difficulty focusing, the constant intrusion of family emergencies, emotional exhaustion, and, if you have cut back on office hours, less work capacity and face time with colleagues can all translate into fewer career advancement opportunities—and, ultimately, less financial security. "Your confidence and ability to develop your career is much different than someone who isn't a caregiver," says Katana Abbott, founder of
DesignatedDaughter.com
, a website dealing with caregiving issues for women.
Obviously you want to help your loved one, but there are limits. "If you're putting your own career at risk, remember that the person you're caring for probably doesn't want you to do that," says financial planner Bonnie A. Hughes of the Enrichment Group, a wealth management firm in Miami, Fla.