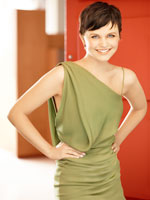 Matthew Rolston
As I sit down across from Ginnifer Goodwin in a Hollywood cafe, it hits me that she could easily pass for a French ingenue. In fact, with her simply chic T-shirt and cardigan, and her pixie haircut that oozes Paris, I wouldn't have been surprised to hear a "bonjour" come out of her mouth. But then the Memphis-born actress, 32, offers a lilting "Hey there," and her subtle Southern accent makes you want to kick back and hang out down home.
Now, as her HBO show
Big Love
goes into its fifth and final season (she plays Margene, the third polygamous wife) and before her iPhone rings (to the tune of "All You Need Is Love"), Ginnifer shares her trick for staying in great shape, her lifelong love of dance, and the feel-amazing secret she learned from her mom.
Q: Youre from Memphis. How does your background help or hurt when it comes to living a healthy lifestyle?
A:
Oh my gosh. I would assume that it helps, in that I consider myself an extremely healthy person. But I know thats sort of contradictory to the fact that you go to the South and all vegetables are deep-fried! I really did go through a period when I was very little when I remember realizing that vegetables did not come out of the ground deep-fried. I changed my eating habits in fourth grade because I was a heavy little girl, and I was unhappy. And I remember my mom making dinner for me the first night that I was on this new program, and I burst out crying because the vegetables were green, and I thought she was trying to starve me to death.
Q: Considering your busy work schedule, whats your go-to healthy snack?
A:
Jeanne Tripplehorn taught me—and this is the most amazing thing in the world—make some instant oatmeal, and put a tiny spoonful of peanut butter and a tiny spoonful of jelly in it, and mush it all up. It is like a mushy peanut butter–and-jelly. Its genius. And its very satiating.
Q: Do you have a favorite way to stay fit?
A:
I have been a member of Weight Watchers for 23 years, and Im back on it right now. Its the only thing on the planet that doesnt dehydrate you or just make you miserable. Ive never had a dramatic weight problem, its just that I tend to indulge, and then I need to get back on track so I can button my pants.