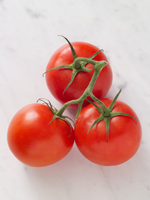 Josesph Montezinos
Vegetarian/vegan
(such as
The New Becoming Vegetarian
and
Skinny Bitch)
The lowdown:
Whether you skip meat and other animal products for your health, ethical reasons, or both, you probably eat more fresh produce and whole grains as a result—good news for your skin. The antioxidants in these eats neutralize the free radicals that contribute to wrinkles, brown spots, and other signs of aging.
Plant-based protein sources may also have super skin benefits. For example, beans contain zit-battling zinc and decrease inflammation, a culprit behind redness, pimples, and premature wrinkles, says Nicholas Perricone, MD, author of
Forever Young: The Science of Nutrigenomics for Glowing, Wrinkle-Free Skin and Radiant Health at Every Age.
On the other hand, some studies suggest that dairy contributes to acne, Dr. Baumann says; consider other protein sources if breakouts are a problem.
Skin Rx:
Veggie diets tend to be low in fat, so incorporate ground flaxseeds and olive and safflower oils to help your skin retain water, making it more supple, Dr. Baumann says.