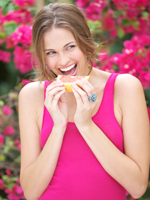 Josesph Montezinos
Sure, your diet keeps your body slim and healthy, but its impact doesnt stop there. The food you eat—from wrinkle-fighting antioxidants in fruits and vegetables to hydrating healthy fats in fish—may matter to your skin almost as much as it does to your waistline. Is your way of noshing helping or hurting your complexion? We asked top docs for their take on the face-friendliness of six popular diets. Read on to see if yours passes the beauty test, and find out how you can alter what you eat for A-plus skin.
Mediterranean
(such as
The Mediterranean Diet
and
The Mediterranean Prescription)
The lowdown:
Fish, leafy greens, olive oil, and fruit are the stars of this heart-healthy, waist-whittling diet. But the benefits dont end there—eating Mediterranean may also protect against melanoma, the deadliest form of skin cancer, a recent Italian study suggests. On the cosmetic front, omega-3 fatty acids in fish help keep skin-cell membranes strong and elastic. And antioxidants in leafy greens and olive oil may protect against ultraviolet light and other environmental assaults that can break down collagen and elastin, the structural supports that keep skin plump and smooth. Result: less sagging and fewer wrinkles later.
Olive oil, tomatoes, and red wine also have antioxidants that help block the chemical reactions that lead to sun damage, explains Leslie Baumann, MD, chief executive officer of the Baumann Cosmetic and Research Institute in Miami Beach, Florida.
Skin Rx:
Red wine contains resveratrol, an antioxidant thats great for skin—but sip in moderation. Overdoing it can dehydrate you, leaving skin dry. Too much alcohol can also generate free radicals, which can break down collagen, leading to wrinkles, Dr. Baumann says.