In Part 1 of this series, Health outlined some of the hidden dangers of dietary supplements, including the shocking fact that they may not be as safe or as regulated as you assume. Part 2 of this special report investigates how we use natural cures—and why our habits may be jeopardizing our health.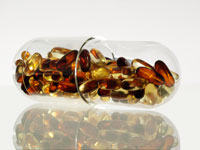 Every morning Angie Gilstrap-Ross gulps down an herbal multivitamin; a capsule of black currant oil; a 1,000 IU vitamin D tablet; a capsule of licorice root and a capsule of Chinese herbs to tame her
rosacea
; and (two weeks out of every month) an echinacea–vitamin C tincture to boost her immune system.
But although Gilstrap-Ross, 45, takes these six supplements routinely, she balked last year when a doctor suggested that she go on a prescription
heartburn
medication to treat symptoms resulting from a
hiatal hernia
. "I'm antimedicine as a first line of defense—the strongest over-the-counter medicine I've taken in over a year is baby aspirin for headaches and body aches," says Gilstrap-Ross, a continuing-education program assistant in Greenville, South Carolina. "There's no way I'd take any other medications unless absolutely nothing else worked. The supplements I take now are herbal and all-natural. For me, they're much healthier than any medicine out there."
Like Gilstrap-Ross, many health-conscious women assume that natural remedies are safer, healthier, and just plain better than conventional medicine. In fact, according to a Health.com poll, 83% of you take some type of supplement at least occasionally, and 56% of you said you believe these products are safer for you than prescription or OTC drugs. "Since the 1990s, studies have shown that people clearly believe that the more natural a treatment is, the more desirable it is," says Tanya Edwards, MD, director of the Center for Integrative Medicine at the Cleveland Clinic. Patients are also increasingly interested in finding holistic solutions to their health problems, she adds: "We've seen a shift in the last 10 to 15 years where people have said, 'Whoa, we don't want to just use drugs to mask symptoms. We want to figure out underlying problems such as nutritional deficiencies, which are making the conditions worse.'"
But our belief that natural is always good—and more natural is even better—can lead us to take alarming risks, treating these supplements like food without considering the potential side effects many have. "Ninety percent of my patients, the first time they see me, come in with an entire bag of supplements, and quite often they have no idea what they're taking," says Alexander Kulick, MD, an integrative-medicine specialist and internist in New York City. "They assume that because these products are labeled as dietary supplements, they can take as much as they want without worrying about side effects, drug or supplement interactions, or overdoses. But the reality is, some of these
natural remedies
are pretty powerful stuff." Here's what every smart woman must know about going natural safely.