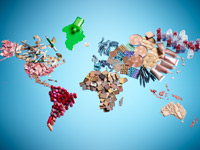 Levi Brown
Ever notice how so many women from other countries seem to 
get older without looking "old"? Famous beauties like Iman, Juliette Binoche, Isabella Rossellini, and Salma Hayek jump to mind, but the phenomenon isn't limited to celebs. What secret weapons do women around the globe have that we could add to our anti-aging arsenal? After speaking to international beauty experts, a few common strategies emerged. Read on for the world's best
age-proofing moves
.
Hydrate (and wash!) with oil
In the States, where products are often marketed as "oil-free," some women think of oil as a negative thing. But women in Asia, South America, and the Middle East often use plant-based essential oils in place of moisturizers. "In India, anointing the skin with the right type of oil is a nourishing way to keep your complexion young," says Pratima Raichur, an Ayurvedic physician, chemist, and botanist. For example, smoothing on geranium oil—found in
Clarins Lotus Face Treatment Oil
($49; clarins.com)—can help to reduce the appearance of fine lines.
Get Flawless Skin Naturally

You can if you follow these five simple tips for creating the gentlest beauty regimen ever.
Read more
In Asia, many women also use oils like
DHC Deep Cleansing Oil
($25; dhccare.com) in lieu of face wash. Some Mediterranean women rely on
straight olive oil
to cleanse at the end of the day. And the trend extends to Middle Eastern women, too: "In Iran, my mother used to cleanse her skin every night with rose water mixed with pomegranate oil," recalls Margo Marrone, a marketing manager for Organic Pharmacy.
There's a good reason oils keep skin fresh. "Soaps and foaming cleansers with sulfates can alter the natural pH of the skin, which eventually will cause dryness and create lines and wrinkles," Raichur explains. "But oils can remove dirt and makeup without stripping the skin."