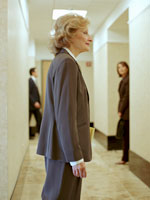 Getty Images
The changes may be subtle, especially at first: An aging executive misses an appointment or two, or can't recall what was said in last week's meeting. A doctor who's nearing retirement suddenly blanks on a longtime patient's name.
So-called senior moments like these aren't unusual as people age, but if memory lapses on the job persist, get worse, and can no longer be overlooked or downplayed by colleagues, it could be a red flag for Alzheimer's disease.
"New cases of Alzheimer's occur every 70 seconds," says Richard Mayeux, MD, a professor of neurology, psychiatry, and epidemiology at Columbia University, in New York City. "The total number of individuals with problems like this will increase as the population ages."
Given the aging population and the weak economy—which is prompting older people who do have jobs to stay in them—the problem will likely only get worse. More than 5 million people in the U.S. have Alzheimer's disease, and this number will quadruple by 2050, according to the Alzheimer's Association.
Spotting the warning signs of Alzheimer's
What does early Alzheimer's look like on the job? The warning signs may differ depending on the profession, but one common denominator that affects executives, doctors, and construction workers alike is an overall decline in job performance, according to John C. Morris, MD, the director of the Alzheimer's disease research center at Washington University, in St. Louis.
"People just can't do their job as well as before," Dr. Morris says. "These changes or declines in mental ability are subtle, so co-workers will cover up at first and make excuses such as 'Well, Fred is getting over the loss of his brother' or 'We just got a new computer system.' Gradually, their level of responsibility has to keep getting reduced so the person is either let go or kept on in a largely ceremonial role."
This pattern of rationalization and decreased responsibility is "very common," says Patrick Lyden, MD, the chair of the department of neurology at Cedars-Sinai Medical Center, in Los Angeles. "We see it most often in businesses where the founder is still in charge."