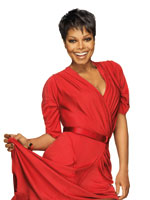 Matthew Rolston
Curled up on a couch in New York City, clad in a white tank top and black track pants, Janet Jackson is ready to get personal. After nearly four decades in the spotlight—from her debut on the classic TV sitcom Good Times to musical mega-stardom to roles in such acclaimed films as the new Tyler Perry drama,
For Colored Girls
—the youngest Jackson sibling, 44, is feeling more comfortable than ever in her own skin. (Her body, as you can see, looks
incredible
.) Here, the sweet, soft-spoken legend—who released a CD of her number-one hits,
Icon
, in August and has a book coming out next month—gets real about the pressures in Hollywood, working out, and what makes her happy now.
Q: We're really excited about your upcoming book, True You, which covers self-esteem and healthy living. Why did you go that route instead of writing a straight-up autobiography?
A:
I guess I'm not finished with all that I want to do in life. You can write an autobiography at any point, and I'm not ready to yet. But in
True You
I tell a lot of stories about my life. I wanted to help people understand the things I've gone through to bring me where I am today, so they understand that journey of the weight loss, the weight gain, the self-esteem issues. I wanted to touch people and bring out the true you within yourself.
Q: It seems like you're opening up more than ever to your fans.
A:
I want to paint a little picture for them. I want kids to pick [the book] up and say, "OK, I can relate to this. I understand it." I want it to be helpful because I know how I was as a kid, and what I needed and didn't get. It wasn't available to me.