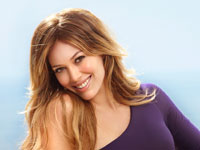 Jack Guy
Don't let the "former teen star" description fool you: Hilary Duff is one young celeb who truly has it together. You won't find the ex–
Lizzie McGuire
star landing in the tabloids because of hard-partying ways.
Instead, the 23-year-old actress/singer has made headlines by getting married (to pro hockey player Mike Comrie) and adding to her ridiculously impressive resume: In October, the actress/singer released her first book, a young-adult novel called
Elixir
. Here, Hilary chats with
Health
about what she loves about writing, which workout she swears by, and her hard-earned secret to body confidence.
Q: What's your definition of living healthy?
A:
Moderation is key. Eating healthily all the time can be boring—you know, when you take apart the menu and ask for everything on the side? Balance makes me feel good: I feel most healthy when I enjoy small bites of the things I love. I used to feel bad about eating French fries—I'd think that I had blown my diet. But you have to think,
That's OK, I'll eat healthier tomorrow
.
Q: What are your favorite good-for-you snacks?
A:
Recently, I have been eating a lot of vegetables and hummus and fruit—stuff I never really liked before. If I am hungry before bed, I will grab a handful of
blueberries
. Greek yogurt is one of my favorite things in the whole world. Sometimes I'll chop up a bunch of veggies and put them in a food processor with Greek yogurt and make a
dip
. It's better if I snack throughout the day, because if I get hungry, Mike says I get "hangry," which is hungry-angry. It's not good.