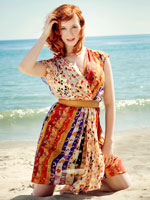 Wearing a body-hugging dress and heels to our interview at an Irish pub in her adopted hometown of Los Angeles, Christina Hendricks is seriously channeling Joan Holloway, the take-no-prisoners office manager she plays on
Mad Men
. But as soon as she sits down and starts talking, the 35-year-old Tennessee-born actress transforms into the kind of fun-loving girlfriend you always have a ball with. Over a late-afternoon cup of chili, Christina-who recently wed actor Geoffrey Arend-talks about making workouts fun and the importance of keeping a "no regrets" attitude.
Q: You've lived all over the country-Tennessee, Idaho, Virginia, Georgia, New York. Which of these places sticks with you most today?
A:
Idaho. I really do love being outdoors-I mean, you'd never think it in my high heels and pencil skirt! [Laughs.] But I really do miss the smell of hay and farms, and I like milking a cow. I'm quite good at it!
Q: Really? What's your strategy?
A:
There's a trick! If you lean your head against the udder, it produces more milk, 'cause [your head] is like a calf. [Laughs.]
Q: Joan on Mad Men is sexy and tough. Are you like that in real life?
A:
When I first started to play her, I would think,
Oh my God, I would never want to hang out with this person. She would crush me like a bug!
And then, I started to love her. I think Joan and I have a 'no excuses' kind of mentality-I'm going to stand by my decisions, no regrets, no apologies. But she is far more confident than I am. She's far more confident than most women are in the world! [Laughs.]
Q: Many women have said they consider your body one they admire or want the most. What do you think of all that body love?
A:
Really? They don't say Jessica Alba? 'Cause that's what I say! [Laughs.] It's such a compliment, because of all those times I had agents who were like, 'You have to lose some weight,' and all of a sudden, people are celebrating it. It's like: 'Oh, thank you! Thank you for letting me be me.'
Q: When I Googled your name, the third most popular search that came up was 'Christina Hendricks's cup size.' How does it feel to know that people are actually discussing that?
A:
It's weird, but it doesn't surprise me. I made the grave mistake after one awards show of reading comments online about what I wore, and I was like, [gasps] 'Oh my God, people are so mean!' I still remember all those negative comments, despite all the wonderful positivity. That's why we're all in therapy! [We remember] the 10 bad things that happen to us instead of the 100 nice ones.