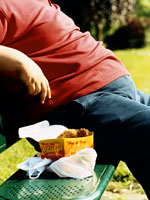 Experts have a term for neighborhoods with little or no access to nutritional foods: food deserts. But that doesn't mean there isn't plenty of food around-it's just the wrong kind.
In general, food deserts contain a glut of fast-food joints, chain restaurants, and convenience stores, and few
supermarkets or grocery stores
that offer fresh produce.
Living in a food desert for too long may compromise your health. Studies have shown that people who don't have easy access to a supermarket tend to have a less healthy diet and are more likely to be overweight, even if their neighborhood features a variety of restaurants, including healthy ones.
"Walking to a restaurant in your neighborhood is not the same thing as walking to the supermarket to buy groceries," says Andrew Rundle, an associate professor of epidemiology at Columbia University's Mailman School of Public Health, in New York City, who has researched the link between supermarket proximity and body mass index (BMI), a ratio of height to weight.
A lack of supermarkets is often a problem in the inner city, where space and rents come at a premium. But not everyone suffering from a shortage of healthy food options lives in the city. Although they receive less attention, food deserts can pop up in the countryside, too.
Rural areas are often too sparsely populated to sustain local supermarkets, and the small markets and grocery stores once found in small towns across the U.S. are increasingly being replaced by larger, regional stores, says Lois Wright Morton, PhD, a sociologist at Iowa State University, in Ames.
"Here in Iowa, market forces have consolidated smaller grocery stores into superstores with more square footage, more products, and therefore drawing from a larger geographic area," she says. "If you don't have access to a car, and aren't on a train or bus line, then how do you get there?"