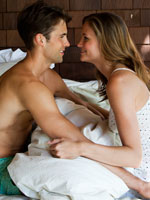 Augustus Butera
When my husband and I got together 15 years ago, we created so many sparks, we could have kept California powered in a blackout. Today? Not so much. Still adore the guy, don't get me wrong, but there's been a definite decrease in sparkiness. And my friends tell similar stories. In fact, when we talk about sex, what comes up most often is that we are all
boring
in the sack. We're not trying out crazy new positions or having quickies on the kitchen table. We are stressed, distracted, stretched too thin by our multitasky lives. We're just not putting the same energy into our sex lives that we used to.
Are my pals and I pathetic-or typical? To find out,
Health
polled readers online
to find out just how much sex you're having, what you're doing, and how you feel about it. We also asked: 'Do you think other people are having more sex than you are?'
The responses shocked me. Many were filled with relief (
you mean
everyone
thinks everyone else is having more sex?
) or anguish (
we used to go at it like crazed weasels; what happened?
).
'We do it once a week, tops,' Carolyn says. (All women's names have been changed.) My friend Mae is also a once-a-weeker-so are my pals Isabel
and Bea. And they do indeed fit the statistical average, says Debby Herbenick, PhD, research scientist at Indiana University and author of
Because It Feels Good.
'In our research, we've found that people are generally having sex one to two times a week in their 20s and 30s, five to six times a month in their 40s, and three to five times a month in their 50s,' she says. 'But that's an average. It means some people are doing it less than once a month and others do it every day.'
And some aren't doing it at all. 'We don't have sex!' my friend Sarah admits. 'Seriously. I think the last time was five months ago. It's shocking to me, but it's also shocking to me how OK I am about it.' She adds, 'I know we're not alone in this. Whenever I tell someone the truth, that we're practically celibate, I see their whole face light up.'
But does it have to be this way? 'Statistically, you're abnormal if you're having great sex,' says David Schnarch, PhD, author of
Intimacy and Desire: Awaken the Passion in Your Relationship.
'But the question is: How do you stop being so normal?'