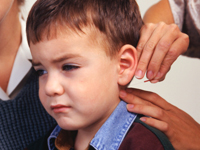 At one time in the not too distant past, asking a doctor about an herb or an acupuncture treatment for your child's health problem would probably get you a patronizing glance, if not an outright sneer and a reputation as an irresponsible parent.
But that attitude is changing. One day soon, your pediatrician may suggest some decidedly non-white-coat treatments for your child, especially if he or she has a chronic health condition. Here's why: This week's issue of
Pediatrics
, the official journal of the American Academy of Pediatrics, published a guide for doctors who want to learn more about complementary and alternative medicine (CAM) for kids.
Practices such as acupuncture, massage, and guided imagery were once considered on the fringe but are now proven to be so safe and effective that scores of hospitals across the country are integrating them into children's treatment programs. To name just two: Children's Hospital of Orange County in California has a comprehensive in-patient CAM program within its neonatal and pediatric departments. And Columbia University Medical Center in New York City has established the Integrative Program for Children With Cancer, offering acupuncture and other treatments designed to make beating a deadly, scary disease a little easier.
The
Pediatrics report
was written by Kathi J. Kemer, MD, the Caryl J. Guth chair for holistic and integrative medicine at Wake Forest University School of Medicine, in Winston-Salem, N.C. In it, she and her colleagues note that doctors who use integrative methods combine the best practices of alternative, complementary, and Western medicine to promote healing by focusing on the whole person (your child), rather than just the bits that hurt, so to speak.