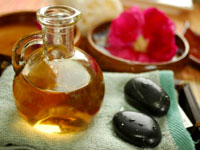 Istockphoto
Its a cold, gloomy, mid-February day, and Id give just about anything for a good aromatherapy massage—if only I wasnt behind on two deadlines, waiting on an hour-long conference call, and preparing for an integrative medicine conference that promises to be fascinating—though it will absolutely annihilate the rest of my work week. Oh, and I should be baking and FedEx'ing birthday cookies for my son, Jack. If anyone needs a massage, it's me.
An aromatherapy massage means spending from 30 to 90 minutes (depending on your capacity for ecstasy and your budget) cocooned in an aura of aroma designed to help you achieve the mood you seek. Coupled with these lovely scents is a head-to-toe massage that—when performed by a skilled, empathetic therapist—will suck all the tension out of your body, catapult you out of the deepest doldrums, and ignite your energy like nothing else can. Really, its two therapies in one.
Healing you can smell
Aromatherapy
is recognized by enlightened members of the medical community for its ability to alter the perception of pain, alleviate nausea, ease insomnia, and help kill germs, says Mehmet Oz, MD, director of the Cardiovascular Institute at Columbia Presbyterian Medical Center in New York, in his foreword to
Clinical Aromatherapy: Essential Oils in Clinical Practice
, by Jane Buckle, RN, PhD. Buckle is a clinical aromatherapist whose book cites reams of aromatherapy research and aims to educate nurses, doctors, and other practitioners about how to add aromatherapy to their toolbox of healing techniques.