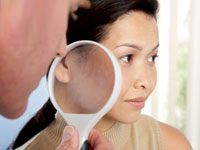 Getty Images
Eight years ago, I had a free skin cancer screening at the company I worked for, even though my fair skin had no suspicious moles or splotches (despite my sun-baked youth). To my surprise, the dermatologist hovered her magnifying glass over the tiny, tear-shaped, pale-colored spot near my left nostril. "Thats just a birthmark. My brother has the same one in the same place," I told her. She sent me off for another look anyway.
That dermatologist agreed with me. "Its nothing," he said. "But since youre here, lets take a biopsy." I shivered, but I wasnt worried—until his call to me a few days later telling me that my birthmark, in fact, was something. That something was a
basal cell carcinoma
, the most common and least dangerous skin cancer, usually caused by sun exposure.
I had it removed promptly. The surgery left a faint, 4-inch scar visible only to me along my smile line.
Recently, I noticed that the same spot looked different. I figured that my newish weight loss just changed the scars appearance. My sharp-as-a-tack 91-year-old mother-in-law noticed it too. "Whats that?" she asked. Next day, I made an appointment with a dermatologist.
Few over 50s get checked for skin cancer
Turns out, Im in the minority of folks over 50 whove had a skin cancer screening in the last year: Only 16% of men and 13% of women get their skin checked, according to a new study funded by the National Cancer Institute.
Of all the cancers, skin cancer is the most common. More than 1 million cases are diagnosed annually. Of them, melanoma is the deadliest form; last year almost 70,000 new cases were diagnosed. When caught early, the five-year survival rate for people with melanoma is 99%, which plummets to 15% once cancer has spread to the lymph nodes.
Twenty-somethings and teens are particularly vulnerable: Melanoma is the most common form of cancer for people ages 25 to 29, and the second most common cancer in people ages 15 to 29. The
American Cancer Society
recommends an annual screening starting at age 20.