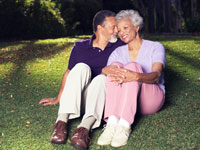 Getty Images
Vikki Smith's first foray into the dating world after 30-plus years of marriage involved a bit of chicanery on her part. The 57-year-old Austin, Texas–based marketing consultant "tricked" a colleague into meeting her for lunch after sensing some chemistry as they worked on a project. The sparks didn't fly, but it did get her back in the dating game, which sure has changed a lot since last she played.
When she first got married, dating was more formal. "It's just so casual now," she says. "You can say, 'Let's grab a cup of coffee,' and it's a date."
That's not the only difference. Most gray divorcees—the nickname given to those who divorce after age 50—met their spouses the old-fashioned way—on a blind date, at school, on the job, or even at a singles' party. Now websites such as Match.com and eHarmony offer singles the opportunity to meet online instead of in person.
And there is a learning curve.
"I can scoot all over the Internet for work, but online dating was a brand new experience," Smith recalls. "I had friends who had done it, but when it first became a phenomenon, I thought it was a wonderful opportunity for every creepy person to start trolling through the masses," she says.
Turns out she was wrong. Single no more, Smith has been in a relationship for about a year with a man she met online. While there are no immediate wedding bells in her future, she is not ruling anything out.
"I used to dread the idea of dating again after being married so long, because it seems that every single person you meet who's over 40 has one horror story after another," she says. "Imagine my surprise to spend so little time online before meeting someone so decent, down-to-earth, and genuinely delightful. I didn't have to kiss a single frog and feel lucky to have had this experience."
While it can be scary, online dating is worth it, according to Smith. "I am happier than I have been in years," she says.
Want to follow in Smith's footsteps? From the first text or email to the first date and how to tell your children, these expert-approved, tried-and-true tips for seamless gray dating will get you back in the game.