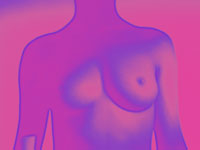 For years, Id written about breast cancer from every possible angle. Then, all of a sudden, I was living it. My aunt and mother were diagnosed 15 and 8 years ago, respectively, and then my aunt got ovarian cancer as well. To confirm my suspicions of a family connection, I got tested for the BRCA genetic mutations. I did, indeed, have BRCA1 and what comes with it: a roughly 60 to 80 percent lifetime risk of one day developing breast cancer and a likewise-inflated risk of getting ovarian cancer.
I was determined to take some control. In 2007, I wrote in the pages of Health about having my ovaries removed, but I wasnt ready to even consider parting with my breasts. Instead, I went the surveillance route, trembling before every mammogram, undergoing magnetic resonance imaging (MRI)–guided biopsies, ultrasounds, and one surgical biopsy, all of which found nothing. As time went on, though, my D-cups felt more and more like time bombs, so last fall I decided to book a prophylactic double mastectomy—to save myself some psychic stress.
Coincidentally, just as I was setting up my surgery, the U.S. Preventive Services Task Force (USPSTF) announced a controversial set of guidelines for women, including that age 40 was too early to begin routine mammograms (for average-risk women, anyway). The new recommendations, which Health wrote about last month, caused women their own psychic stress, because they flew in the face of what wed all been told for years. I took the information I had and made some decisions, but many women were left with more questions than answers.
To help you figure out how best to take care of your breasts, we corralled the nations top experts and asked them the questions youve told us are on your mind. Cant find all your answers here? Bring this story to your next checkup to help you work out a plan of action.