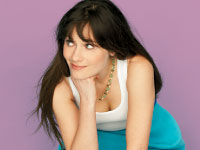 Zooey Deschanel is an original. With her retro-chic style and girl-next-door vibe, the indie sweetheart has charmed more than just her romantic co-stars in films like
(500) Days of Summer
and
Elf
. And later this year, she'll do it again, enchanting James Franco (and the rest of us!) in the fairy-tale comedy
Your Highness
.
But the 30-year-old Los Angeles native—one half of the band
She & Him
, along with
M. Ward
—is also proving to be a force on the music scene with the recent release of her second vintage-flavored album,
Volume Two
. Here, the actress/singer/songwriter (and newlywed!) reveals how she lives it up the smart way. (Memo to other rock stars: you can eat healthy and get to bed early on the road).
Q: You've carved out hot careers in movies and music. If you had to choose, which would it be?
A:
I don't think it's really necessary [to choose]. But writing music is my favorite thing to do. With acting, you're carrying out someone else's vision—and music's mine. Being an actor is like a lot of stars have to align to make a really satisfying experience.
Q: Like (500) Days of Summer?
A:
Yeah. That was a really fun movie.
Q: Is it harder to eat well when you're touring?
A:
I find that I'm almost healthier because I have to be really disciplined. I can't eat too much before a show, [or] you go on stage feeling terrible. And I almost always visit health-food stores in every city I'm in, just to make sure there's stuff on the bus I can eat—vegetables, fruits, lean meat, and nuts.
Q: That's interesting. We always hear how hard it is for musicians to eat well on the road.
A:
It's so easy! These people, I don't know who they are, because there are health-food stores in every city! The other thing is, I don't go out after shows.
Q: So you're not partying afterward?
A:
No, I'm not [laughs], because if I were to do that I probably wouldn't be able to sing the next day. The whole thing is, you're touring to perform, and you owe people because they pay money to come and see you play. I literally go to sleep after shows. And I always make sure to exercise.
Q: You used to be vegan right?
A:
Not anymore. My older sister,
Bones
star Emily Deschanel, has been a very, very committed vegan since high school. I wish I could be like that, but I'm not. I have a lot of food sensitivities—I can't eat wheat or soy—and it was very difficult to eat and get enough calories. It was even impossible to eat at a vegan restaurant. [Laughs.]
Q: You love to cook. What do you make?
A:
I don't really like sweets that much, but I find it really satisfying to bake for other people—cupcakes and cookies and cakes. I make a good quinoa spaghetti with pesto and zucchini. Pesto's one of those things you can experiment with, and one day I was like, What if I used hemp seeds instead of pine nuts because they're more nutritious? I've made it for a lot of dinner parties. It was a hit!
Q: Do you have any other healthy-snacking secrets?
A:
I try not to snack a lot. I know that sounds weird—some people think you should snack all the time. If I start to snack too much, I don't have an appetite for meals. So I eat three square meals a day, and if I'm hungry, I have an apple.