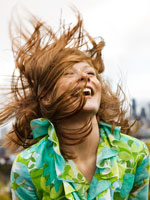 A report due yesterday, 100 ladybug-shaped cupcakes to make for the school bake sale (tomorrow morning!), and your mother-in-law arriving for the weekend … Feeling stressed yet?
That might not be a bad thing, if you know how to take advantage of it. While chronic or extreme stress levels have been linked to heart disease and hypertension, among other things, research suggests that moderate levels can actually boost your health.
"The positive aspects of stress are underappreciated," says Ken Robbins, MD, a clinical professor of psychiatry at the University of Wisconsin-Madison.
Here's how it works: When you're stressed, your adrenal glands release a cascade of hormones, including adrenaline, which ups your heart rate and boosts energy, and cortisol, which increases glucose in the bloodstream. When your body gets overwhelmed with these chemicals for weeks and months, you start to see ill effects.
But in short bursts (like a day or less) stress can make your body more efficient and your mind razor sharp. Heres how to use stress without letting it use you.