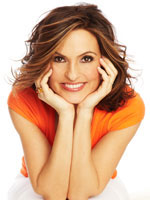 Antoine Verglas
It's a gray, listless day on the New Jersey set of
Law & Order: Special Victims Unit
, but Mariska Hargitay blazes into her dressing room with so much energy she nearly leaves a comet trail. "How are you?" she says, striding over and smiling warmly. "How's the baby?" (In 2009, I interviewed her for
Health
and mentioned I was pregnant. A full year later, she remembered.)
Clad in slim black trousers and a black shirt (with a fake gun strapped to her hip for an upcoming scene), the 46-year-old star is absolutely radiant. Her body is curvy—no surprise given she's the daughter of movie star Jayne Mansfield—but she's slim and toned. Her skin has the dewy glow that comes from a heavy-on-the-produce diet and brisk exercise (treadmill in winter, swimming in summer).
It's a good thing she has a surplus of natural vigor. This year marks her 11th season playing tough but empathetic detective Olivia Benson (which won her an Emmy in 2006)
. She and her husband, actor Peter Hermann, have a 3 1/2-year-old son named August. She is also intimately involved in the Joyful Heart Foundation, the organization she created in 2004 to give strength and support to survivors of sexual assault, child abuse, and domestic violence. "It's like having three full-time jobs," she says.
To spend a day with her on the set is to watch her do all of them at once. Each show takes eight to ten fourteen-hour days to complete. When Mariska isn't needed, she dashes into her homey dressing room. Photos of August adorn the light-blue walls, and his toys are piled in a corner for visits.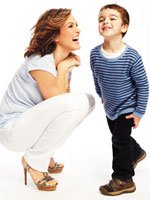 Antoine Verglas
Mariska pours us some lemon water from a big pitcher. No sooner does she sit than her phone rings. "Sorry, it's my son," she whispers. Calls from him are taken immediately. "Hi, Augu-dini! Did you make it? I can't wait to see it! Oh, I can't right now, because I'm in the middle of work," she says, sounding like every guilt-ridden working mother in the world. She hangs up and explains that he made her a card. "He's just starting to learn that I'm an actress," she says, "because he thinks I'm a police officer sometimes."