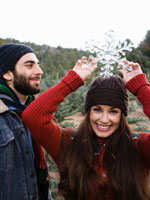 Getty Images
Ah, the holidays. 'Tis the season to move into the relationship danger zone. We get so stressed out about buying the right presents, staying within our holiday budget, or trying to please impossible in-laws that the tension inevitably spills over into our love lives.
"Its naturally a time of high stress and high expectations," says Carol J. Bruess, PhD, the director of family studies at the University of St. Thomas, in St. Paul, Minn., and coauthor of
What Happy Couples Do: Belly Button Fuzz & Bare-Chested Hugs—The Loving Little Rituals of Romance.
"Our culture creates images of the perfect gathering, the perfect feast, the perfect happy family gathered around the tree, the perfect couple exchanging perfectly thoughtful gifts."
The reality, of course, is nowhere near perfect.
However, just as much as planning ahead will enable you to handle all the shopping and cookie-making, it can also help you to troubleshoot any potential relationship drama—and nip it in the bud before youre tempted to put coal in your guys stocking. Thanks to this expert advice, the only romantic issue youll have this December is where to hang the mistletoe.
The problem:
Having expectations that are too high
The solution:
Be honest about what you really need—but dont ask for the moon
The most common mistake people in relationships make around the holidays? Having expectations that are too high—and not voicing them. "People often think their significant others should be able to read their minds," says psychiatrist Mark Goulston, MD, the author of
Just Listen: Discover the Secret to Getting Through to Absolutely Anyone
. But, as he points out, its unreasonable to expect your significant other to automatically know what you want, and that will leave you feeling resentful when he doesnt live up to your unspoken hopes. Preempt a problem by making an effort to be clear about what youd like him to do for you this December.
But if its your partner who tends to get upset because you cant guess whether there are visions of sugarplums dancing in his head, ask him, "What can I do to make sure this is a special Christmas for you?" Bruess puts it this way: "If you talk with each other in a frank and honest way about what you
do
expect, you can help each other bring those high expectations down so the experience can be more positive."