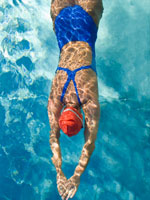 Istockphoto
From
Health magazine
These six celebs share what it's
really
like to be in their skin, from facing fears to motherhood to just having fun.
What my body really feels like ... underwater
by Dara Torres, five-time Olympian and winner of 12 Olympic medals
As soon I dive in, I feel this connection with the water. I feel at peace, just a serene feeling. I may train a lot—two to two-and-a-half hours a day, though right now Im recovering from knee surgery—but I actually love the feeling of just floating and splashing around.
Especially when I introduced my daughter to the pool, at 3 months. Thats how you want to teach a child. You dont want to put floaties on—you want them to feel their own body weight in the water.
I love to be underwater when no ones around and have the whole pool to myself. When I was training for the 2000 Olympics, I used to jump the fence at night, dive in, and look up at the sky through the water—it would be kind of rippling, but you could see the stars and everything.
I know this sounds crazy, but I really think pool water makes your skin soft. Swimmers have the smoothest skin. It tweaks your hair, though, and not in a good way.
The smell of chlorine always affects me. When I took seven years off, I was like: Uhk, chlorine. Yesterday, I got in the pool for the first time in a long time—just to walk to start rehabbing my knee—and I was like: Yay, the smell of chlorine.
Its weird when I get out of a pool—I kind of dread it. My body feels so heavy. I dream about swimming all that time. How could I not? My whole life has been in water.
Next: What my body really feels like...healthy and strong