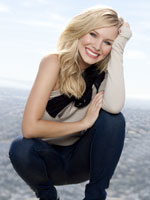 Jack Guy
Shes the voice of
Gossip Girl
, the Sarah Marshall that Jason Segel had trouble forgetting, and the love interest of some surprising suitors in her new movie
When In Rome
.
But Kristen Bell, 29, has some more tricks up her white cotton J.Crew sleeve: she is not afraid to stand up in a crowded restaurant during breakfast to demonstrate her favorite workout moves, and is so knowledgeable about the caloric and fat content of every food item she mentions, she could be an iPhone App!
Over an egg-white breakfast burrito, the Midwest-born vegetarian—currently two years into her relationship with actor Dax Shepard—chats with
Health
about everything from Madonna arms (shes a fan) to the real secret to a happy relationship.
Q: In your upcoming film When In Rome, you fish some coins out of a magic fountain and end up with some unexpected love interests. Have you ever been surprised to like someone you didnt expect?A:
Not really, because looks dont matter that much to me, so I kind of give everybody a chance. When I was single, my eyes were always open. There was nobody off the list. When my gut told me to date, I followed it. And sometimes it was someone I never would have picked out of a lineup. I find weird people really interesting. Theres nothing interesting about a normal person.