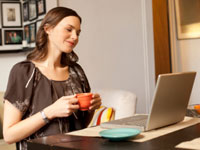 Getty Images
Lana, a 38 year-old publicist in Los Angeles, was diagnosed with genital herpes in 1997. Since then, she has "kind of been hiding" from the dating scene. Let's face it: How do you drop that bomb on a potential love interest? And when?
She considered a number of online dating venues, but she says Match.com asked too many questions on its enrollment form, eHarmony was too "religious," and MySpace was too much of a "hookup zone." "I wanted to meet men with my same diagnosis so we wouldnt [need to] have 'the talk,' or fear of rejection and transmitting," she says. "Most of us with this don't wish to spread it."
Despite—or perhaps because of—the economic downturn, the billion-dollar online dating industry has been booming. But not everyone has felt welcome at the party.
While sites like Match.com and eHarmony don't discriminate, they also don't cater to people like Lana who are coping with sexually transmitted diseases, disabilities, or mental health conditions. All of these can make dating—often an ego-shattering minefield for those in perfect health—even trickier.
"On bigger dating sites the competition is tremendous," says Jim Houran, PhD, a clinical psychologist and columnist for Online Dating Magazine. "And lets face it, depending on what [the illness] is, it could very well make you uncompetitive in the larger dating pool."
Fortunately, there are a number of alternatives. A new breed of dating site has emerged to play cupid for people with chronic diseases and disabilities. Over the past five years, several sites—such as
Prescription4love.com
,
Nolongerlonely.com
, and
Cisforcupid.com
—have launched to serve the needs of people with conditions ranging from
bipolar disorder
to
Crohn's disease
. Together these sites now boast tens of thousands of members.
In addition to providing their users with a more hospitable environment, these websites defuse the tension over
how and when to disclose an illness
, which is often an issue for people with diseases and disabilities who venture onto mainstream dating sites.