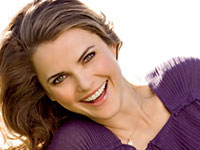 Jack Guy
Let's face it: calling a celebrity "real" is a huge cliche—but we just couldn't help ourselves with Keri Russell. She arrives—early—at a bakery near her Brooklyn, New York, home, her hair in a loose bun, toting packages bound for the post office. When I offer to pay for her scone, she scoffs.
The 33-year-old star of TV's Felicity grew up in Texas, Arizona, and Colorado, and moved to this quiet corner of Brooklyn in 2007 with her husband, Shane Deary, a carpenter, and their son, River, now 2.
She's passionate about children's-health issues and recently teamed with Harrison Ford and Brendan Fraser in Extraordinary Measures, based on the true story of a couple whose two youngest children are diagnosed with a rare, fatal disease; as the clock runs out, they and Ford's character start a biotech company to find a cure. Over breakfast, the self-deprecating star talks about the importance of downtime, her favorite new way to exercise, and fighting for better health care for kids. Then, she's off to the post office.
Q: Was your role in Extraordinary Measures more difficult than usual to play because you have a small son?
A:
I didn't want to do it at first. I read the script, it's such a compelling story, but, yeah—having a 2-year-old at the time … the story goes that they have their second kid, who's perfectly healthy, and then they're told that she's not going to live beyond 8.
Q: Have you met the real-life family this story is based on?
A:
I went to New Jersey and spent some time with them. They're young, incredibly funny, and dynamic. I said, "I want you to understand—this is a movie. This is your life story, and it is not going to be that, it's going to be some other version of that, so please tell yourselves that every single day." Because I'd absolutely hate it! To have some cheesy actor doing that! [Laughs.]
Q: You've gone to Washington, D.C., with Children's Defense Fund founder Marian Wright Edelman to meet with senators and administration officials to advocate for children's health care.
A:
She took a group of women, four of whom were mothers with stories of how they had basically been robbed by health care. They had jobs, but through a matter of, say, their husband making $1.50 over the poverty line, they couldn't get their child who has a rare disease something that would prevent her from dying. It doesn't matter who you are, who you are born to, or what state you live in, it should be a mandate across the board that every kid gets to see a doctor when she needs to. But these stoic senators were looking at us with blank eyes. It's crazy.