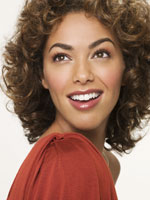 Sonja Pacho
The worlds most gorgeous colors—the deep ocean blues, earthy forest greens, fiery sunset hues—also happen to be the most flattering. Yet many of us avoid these makeup shades, finding them daunting. We get it: Any type of color on the face can be scary.
But there are palettes out there that can do wonders for your looks, according to New York City makeup artist Emily Kate Warren. "Once you find the right makeup shades, youll be amazed at how they wake up your entire face and make your skin glow," she says.
To figure out which hues are most gorgeous on you, we developed three nature-inspired color categories that almost all women fall into: Sun, Ocean, and Earth.
Read the descriptive statements for each group on the following pages to see which you belong to, then check out the corresponding tips to discover a beautiful new look. Yes, its that easy.