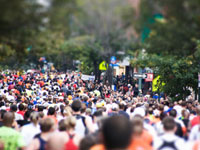 Three runners collapsed and died during the Detroit Marathon on Sunday. Although that news is shocking and frightening for runners and non-runners alike, such deaths are rare, experts say.
"Among young people, high school and college athletes, theres one death in about every 200,000 people [during exercise in general]," says Paul Thompson, MD, the director of cardiology at Hartford Hospital, in Connecticut. "For older people, theres about one death in every 15,000 people. If you look at really fit people, the death rate is even lower."
In fact, other activities may be more dangerous than running a marathon. "More people die from lightning strikes while golfing," says William Roberts, MD, a professor of family medicine and community health at the University of Minnesota, and the medical director of the Twin Cities Marathon. "And its probably safer to be running in these races than driving in a car if you think about the number of deaths from traffic accidents."
The three men who died in Sunday's race were believed to be in excellent health and to have trained for the race, according to news reports. They were 26, 36, and 65 years of age. Two collapsed at roughly the half-marathon mark, or around 11 to 12 miles; the third had just crossed the half-marathon finish line. Autopsies have been scheduled to determine the causes of death, but officials suspect all three died from cardiac arrest.
Two other races have been in the news this month after runners died: Two people died at the end of the Rock 'n' Roll Half Marathon in San Jose, Calif., and one person died at the Baltimore Marathon.
"When these things happen, they get our attention," says Dr. Thompson. "Even if youre in good shape, its no guarantee."