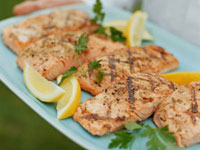 Salmon, tuna, and other fish are loaded with heart-healthy omega-3 fatty acids, so they must be good for you, right? Not so fast—some types of fish have more mercury than others, and others are harvested from the ocean or farmed in a way that's harmful to the environment.
Now, a new list has come to the rescue: It sorts through the confusion by rating fish in terms of levels of omega-3 fatty acids, mercury and other toxins,
and
in terms of their sustainability or ocean-friendly status.
Other lists have looked at one or two of the factors, but ocean-conservation advocates at the Monterey Bay Aquarium, in California, looked at all three, including whether fish are caught faster than they can reproduce (overfished) or in ways that have a negative impact on the ocean. They included eight types of seafood on a "super green" list after working with researchers at the Environmental Defense Fund and the Harvard School of Public Health.
The list includes albacore tuna—as long as it is troll- or pole-caught and from the United States or British Columbia. Troll-caught fish are lured using a hook and line towed behind or alongside a boat. It is considered an environmentally friendly technique because unwanted fish are released soon after the line is reeled in.
Farmed mussels, farmed oysters, wild-caught Pacific sardines, wild-caught pink shrimp from Oregon, wild-caught salmon from Alaska, wild-caught spot prawns from British Columbia, and farmed rainbow trout are also on the list of healthful, sustainable fish.
All fish on the list have relatively low levels of mercury and other contaminants, and relatively high levels of omega-3 fatty acids, according to government databases and peer-reviewed scientific studies. A second list (with slightly lower omega-3 fatty acids but low levels of contaminants) includes farmed Arctic char, farmed bay scallops, and farmed crayfish, among others.