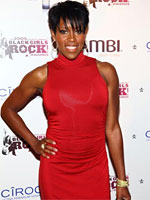 Southland
star Regina Kingshares her guilty pleasures, how she beats stress, and what really keeps her grounded.
When I want a fun night out …
I have to be honest, Im not the ultimate party girl. Ive been a mom for 13 years. A fun night out is pretty easy for me. It usually involves a bottle of wine and friends.
The most surprising thing Ive learned about myself from being a mom is …
I have patience! Who knew!!!
My best healthy eating habit:
eating at least one salad a day.
When it comes to food, my biggest weakness is …
thats a hard one. I loveall food! It depends on the mood. I love sweets. I love fried foods. You fry it, Ill try it.
My favorite workout is …
a quick one. Or something that doesnt feel like youre working out, i.e., dancing, racquetball.
My feeling on birthdays:
Grateful to have lived another year! I always make time for … a family member or friend who needs an ear. They do the same for me.
I usually beat stress thanks to …
my dog. Hes a big one, and he has to be run/walked. So it forces me to take at least 30 minutes to release any tension I may or may not have.
My happy-life motto:
Become friendly with the present moment, even if this present moment doesnt feel so great.
The most important lesson I learned growing up is …
to share. It makes you feel good.